Checkout has been disabled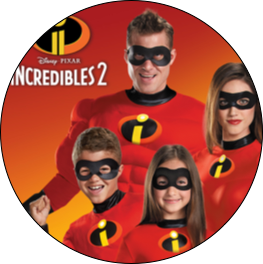 Bust down the walls to your next Halloween party with costumes of characters from Disney/Pixar's hit movies, The Incredibles and The Incredibles 2! Channel the world's favorite superhero family, from family patriarch, the super-strength-having Mr. Incredible, to mom, the elastic and dexterous superheroin Elastigirl, to their super-powered kids Dash, with super speed, Violet, with inadvisability, and Jack-Jack. Don't forget their icy Superhero friend, Frozone! These costumes are perfect for a group costume with your entire family or a group of friends and get ready to save the day! Or at least... the candy bowl.
Check out Johnnie Brock's huge selection of wigs and accessories to complete these looks!
Adult Sexy Mrs. Incredible Elastigirl Costume for Women (The Incredibles)

AVAILABLE SIZES:
Small, Medium, Large, & XL
Adult Mr. Incredible Classic Costume with Muscle Chest for Men (The Incredibles)

AVAILABLE SIZES:
XL (42-46) & XXL (Plus: 50-52)
Kids Dash with Muscles Costume (The Incredibles)

AVAILABLE SIZES:
Small (4-6) & Medium (7-8)