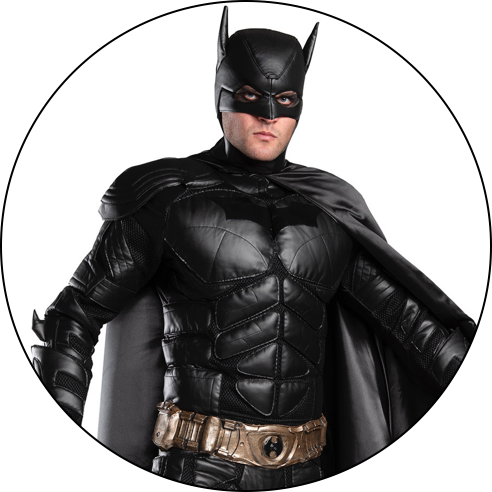 Holy selections, Batman! Dark and mysterious, rich and powerful, no matter who you are, you want to be Batman (unless maybe you're the Joker.) The Caped Crusader is the world's most renowned and infamous superhero, even if you think Superman can beat him in a fight. 
Johnnie Brock's has everything you need to suit up and patrol the streets of Gotham this Halloween, from onesies to morphsuits to detailed muscle suits and beyond! And of course, no hero is complete without his mask; we have selections from fave coverings to a full cowl so you can look like you just jumped right out of the pages of the comic books. And at Johnnie Brock's, every version of Batman is our favorite. Shop the classic Adam West, the dark and mysterious Val Kilmer,  the Dark Knight, or even the goofy Lego Batman! 
And we'd never want sidekicks to feel unappreciated, so dress up as Batman's young ward Robin or slink around as the sometimes-good, sometimes-bad Catwoman! Or, if you're feeling like playing some tricks, dress up as Harley Quinn and cause some mischief. Shop wigs, masks, accessories, weapons, and beyond, all in infants, toddlers, kids, teen, and adult sizes in Men's, Women's, and Plus Size options. Even bring your furry sidekick into the fun with a dog or cat costume!
Hop in the Batmobile and shop one of our two locations and become the night this Halloween!