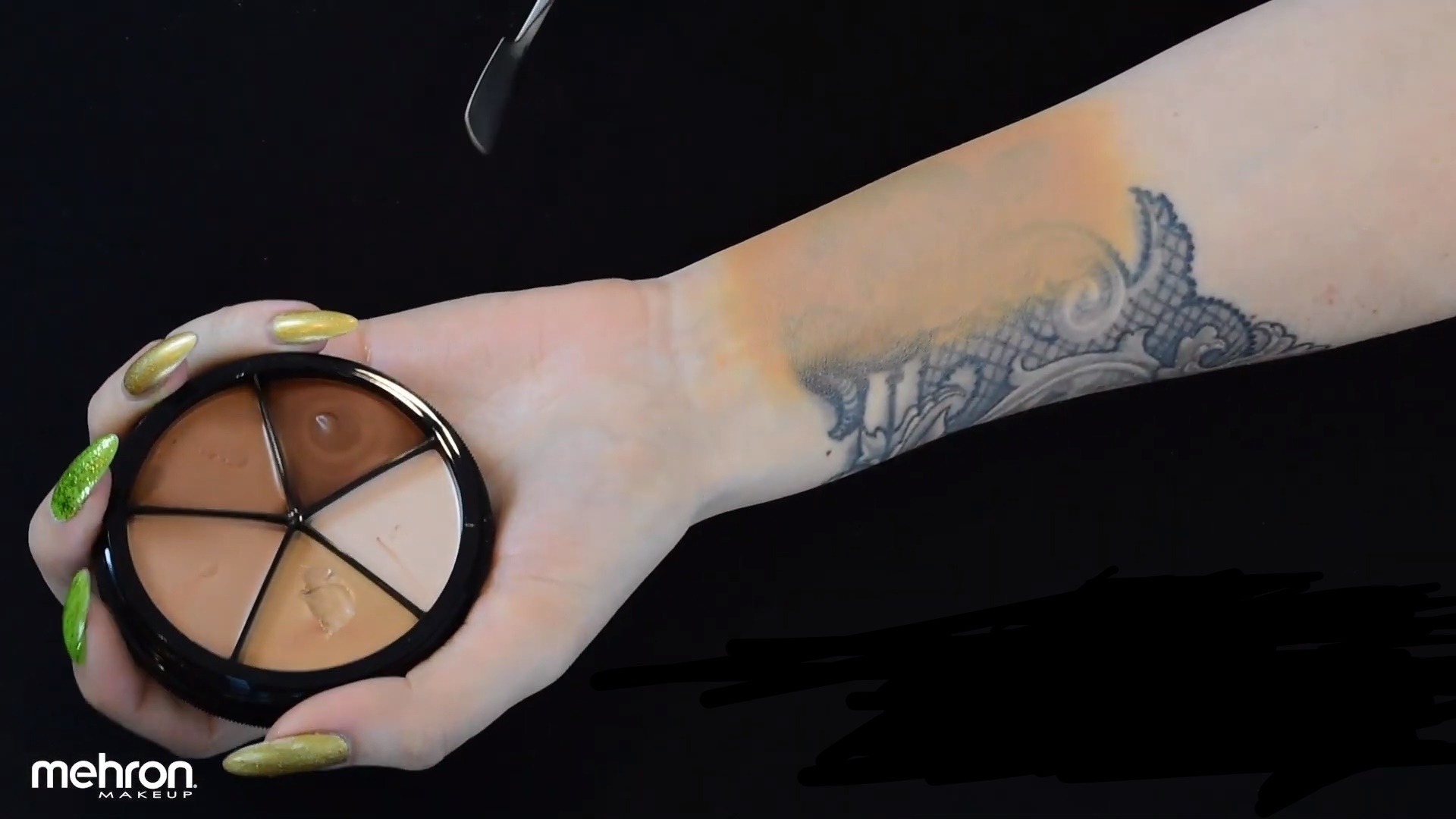 Have an important meeting, wedding, or even to go to and you're looking to cover up your ink? Mehron has got you covered... literally! Mehron has transformed their no-nonsense, unmovable FX paint formula into a wheel of covers made to cover up almost any and all blue-ink tattoos! This easy-to-follow, step-by-step process only requires two products and will show you how to cover up tattoos with no sweat! Wear your ink with pride and love, but for the times you have to keep it on the down-low, we've got you! Mehron's ProColoRing tattoo cover comes in a variety of colors to help mask tattoos, birth marks, and skin discolorations. 
How to Cover A Tattoo with Mehron Makeup 
Step 1:
Using Mehron's tattoo cover choose a shade that's slightly darker than your skin tone. Using a little bit of the correct makeup shade, apply it directly on the tattoo. Once you have it applied, use a white latex sponge to blend it out. We recommend a patting motion to ensure everything is blended perfectly.
Step 2:
Once that first layer is applied use a powder puff or Mehron's fan brush to apply colorless powder over the top of that last layer. 
Step 3:
After you finish powdering that layer, apply another layer that is the closest match to your skin tone. Then blend that layer out with your white latex sponge. After it's blended out use your ColorSet Makeup powder and apply another layer.
Step 4:
If finding the exact match for your skin is difficult, try using Celebre Pro HD Creme Foundation to find that perfect match. Once you find it, apply it in right over the top. Then blend it together with your sponge. Once again, use one final seal with the ColorSet Powder.
Step 5:
After all the layers are applied and blended, take the Mehron Barrier Spray and hold it about 6 to 8 inches from the applicator area and give it a light mist. Let it air dry. Add a second coat if needed. After that, your tattooed area should be transformed so well that people will never know you have a tattoo there!
Make-up required to create this look:
Paradise Makeup AQ Prisma Brushes 
Check out our Mehron Makeup Collection Here!