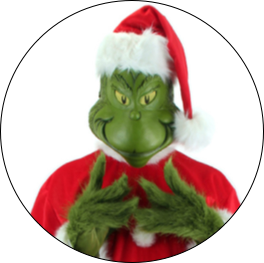 You're a mean one, Mr. Grinch! Spice up your holiday festivities with the mortal enemy of Christmas, Dr. Seuss's beloved green grouch, The Grinch from How the Grinch Stole Christmas! 
The Grinch just can't stand all the fun they're having down in Whoville every year around Christmas time, and this year, he's going to put a stop to it! Why go as Santa Claus like everyone else when you can go as the trickster himself, the Grinch!
Our selection of Grinch costumes is sure to make you stand out this Christmas. With your choice of grinch outfits and accessories, you can easily stand out from the rest and show your friends and family just how well you pull off the Grinch.
Whether you're looking for hats, costumes, accessories, and more, showing up in your Grinch costume to your next holiday bash is sure to get a laugh! Just don't get offended if no one wants to touch you with a thirty-nine-and-a-half-foot pole!