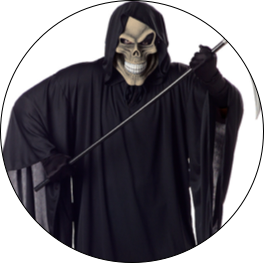 It ain't rocket science. Halloween is a time to be scary. That's why one of the most famous horror movies of all time is called "Halloween". It's simple math. That's why Johnnie Brock's has got your back when it comes to dressing scary this Halloween. Or even just because. 
Vampires, witches, ghouls, goblins, werewolves, zombies, scary dolls whose eyes follow you around the room, we've got it all! Choose from one of the classic spooks that haunt our nightmares, and whether you want to be scary, silly, or sexy, Johnnie Brock's has a costume for you! Or suit up as one of our favorite characters from horror: Jason Voorhees, Freddy Krueger, Michael Myers, Chucky, Pennywise, Billy the Puppet, choose from your favorite horror icons and start prowling the streets. We've even got scary costumes for your furry friends, too!
We've got horror costumes in Men's, Women's, and Plus Sizes, with a wide array of wigs, accessories, weapons, and even makeup to create your goriest and scariest costume yet. Halloween will never be the same!